Picking a pocket knife for you cub scout.
So I'm going to lay down a series of opinion on how you should pick a pocket knife for you boy.
***Obligatory disclaimer ***
These opinions are for entertainment purposes only, if someone gets hurt that's totally on you...
Get a Single bladed,single edged, folding knife that is legal in your area and unit,
With a locking non serrated blade, Stainless is good, but not required.

which you are 100% sure he can open and close with ease.

I prefer a liner lock, but make sure he can open and unlock and close it easily.\

Make sure it has a pocket clip or a lanyard hole or both.

A thumb hole is best for opening.

Do not get a spring assisted or Flipper knife.

I recommend a bigger knife, 3-4.5"Blade…

Pick a bright color your son likes that is seldom found on the ground in nature.
·

Don't spend much on it, because it will get lost several times. Don't buy too cheap...

Around $20 usually does it.
Okay lets break it down.
Legal in your area.
– This is pretty obvious but often nearby areas are overlooking, a knife legal in my home town , may not be local in Austin, and a knife perfectly legal in Austin can Be illegal in San Antonio, because any locking knife is illegal there.
Single Bladed
- Multi tools and Swiss Army knives are cool, but cub scouts are young and need the thinner profile of a single blade knife to make it easier to grip.
Single Edged
- blades that are sharp on both sides are designed for stabbing, not whittling, and are both more dangerous and difficult to use, and are Illegal in many areas...
Folding
- A folding Knife is safer in your pocket, and most scout camps don't allow sheath knives. Plus IMHO boys just cant' seem to resist throwing sheath knives trying to get them to stick.
A Locking Knife
– I prefer a liner lock, as I think it takes the least finger strength to close if you pick one with a long thin liner. A lock back is my second choice. The truth is, as long as your son can easily unlock and close it, that will do...A locking blade is just safer for your scouts fingers especially when he's learning to use it. Whatever kind you get, have him open and close it several times, so you know he can do it easily before you buy it. If you are getting it online, look at photot and reviews.. The most important thing your son is going to do with the knife is close it safely. Make sure he can do it easily, and that it stays closed.
A liner Lock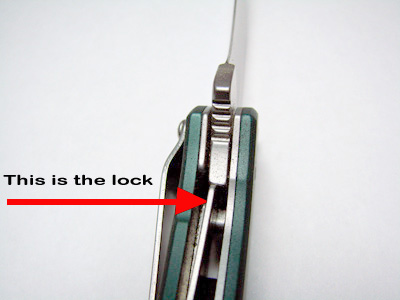 Notice how both here have a thick liner, and thus the lock is from thicker metal, This will take more effort to unlock. The liner is the metal between the handle material (wood or composite) and the blade.
Below is one thin enough to be gamble on with without playing with it first.
A thin liner means a thin liner lock, which means less strength is required to unlock it. You really want the strongest one he can unlock easily, but when not sure, err on the side of thinner.
A Non-Serrated Single Edge Blade
– Many people will disagree with me on this, but IMHO a serrated blade is great for cutting rope and similar things, or food…But not terribly useful for much else. They are harder to sharpen without special tool, (Though they remain sharper longer) Add to this that the serrations are usually right where the boy is going to need to use the knife to whittle. So a non-serrated or "plain" blade is best. For him to use and easier for him to learn to sharpen.
Partially Serrated on top, Plain on the bottom. Both have thumb holes sticking out of the top. Serrations suck for whittling. Great for cutting rope... but not whittling.
Pocket clip or lanyard hole. (Or both)
- If its attached to his clothes he's less likely to lose
it outdoors. It's that simple. I prefer a simple lanyard, slightly longer than his arm(pit to middle finger tip), tied to the knife, with a loop big enough to fit the knife through easily on the other. Tuck the loop behind a belt loop, fish the knife through the small loop, pull it snug, stick the knife and the excess rope in his pocket. When needed, Pull everything out of your pocket, and you can do most tasks with removing the lanyard..
Easy to open with young fingers.
Easiest to open, is the blade with a thumb hole, plenty for the buy to grip, next the thumb stud, last the little groove for your finger nails. The easier it is to open and close safely, the more often it will be opened and closed safely. Plus when he's older he can open the hole and thumb stud with one hand, which is super helpful.
Do not get a Spring assisted knife
,
Spring assisted knifes are too easy to open at this level, and can pop open in their pocket, so pass on them. Flippers, have a little lever to assist opening, but usually are not held closed with much friction to make this easier. But the flipper lever works as an extra guard to keep fingers off the blade.. so make your own call on flippers...(Flippers are very popular right now)
A bigger knife over a smaller knife
. - I used to be a small knife for small hands believer, until I paid close attention to my lads learning to whittle, the handles that were longer, taller, yet still thin in depth just gave them a better ability to shift grips around and position the knife for each cut. And they had more control when making the cuts. So I changed my tune. I found that the 3- 4.5" blade was about the sweet spot. But the boys did get it done with smaller or bigger knives, they just got a lot more frustrated hanging on to the tiny ones... Be aware that some scout camps want knives with 3.5" or shorter blades... Check your local camps, or go 3"-3.5" to be safe.
Pick a Bright Color
– so if it winds up on the ground in leaves or debris, it's easy to see. Preferably ones not found in nature on the ground. The truth is this is the least important Criteria, Black is better than Tan and Tan is better than camo, but if your boy really likes that Camo Knife, explain the downside of it being camp (hard to find in leaves) and let him get it.
Don't Spend Too much… or Too little

.
There are a lot of Cheap knives with injection molded plastic handles like Frost Cutlery made with garbage steel… They don't stay sharp and break, Try to get one with metal in most of the handle.If you know nothing about blades, 440c stainless is a good place to start. I tend to aim $20 , but you know your boy and your budget. Don't obsess about edge retention as long as it's half decent... That way lies big buck knives.
Additional Notes:
Don't stress out, that's a lot of criteria, A perfect knife will be hard to find, and what's perfect for your son may not be perfect for mine. Read the explanations , so you understand the compromises and pick the best knife you can that your son will like, hitting as many of the goals below as you can. In the long term, if he's super pumped about it and can take it to camp... That's the best knife



Try not to get a super heavy knife... Composite handles like Micarta and g 10 are fine and light, but the goal of a pocket knife is to forget it's there till you need it. A heavy knife is annoying in your pocket.



If you know nothing about knives, stick to brand names, especially if they are familiar to you. Gerber, Scharade, kershaw, Spyderco, Victorinox/ Wenger(Swiss Army, get a Locking one, most don't), Case, Buck, Ontario (makes Us issue survival knives) etc. They will cost more, but hopefully keep you from getting a real stinker, especially combined with looking up reviews online.




If you buy it on Amazon, just look at liner lock knives with a 4+stars Rating, and Ignore the ones with single digit review counts, look at the liner lock and go for a longer and or thinner one. This will have less resistance, and be easier to close (but weaker in use)


What if my son is a Leftie, Several of the models below have dual thumbstuds so it can be opened with either hand, a few also have 4 position pocket clips, so you can rig it to go in the left hand pocket,and change which end is up (I like that even as a righty)



Since young lads love knives, but also lose them, here is what I do. Every Christmas I get them a cheap (<$15) liner lock off Amazon in their favorite color to go in their stockings.




Here is my technique.




Search for 'liner lock knife –assisted –spring" the – means only ones without the next word.

Then filter by 4+ star ratings only, then order by cheapest to most expensive. Start at the top, and work your way down till you find one that fits. If he has a plain blade already, serrations are not that bad in a 2nd knife…Well a 4th knife...

Buying online, you have more risks about how hard the knife is to unlock, as a lot of pics don't show the liners

If this is all too much...

Go get one from the scout shop, they will probably not be lock blades, but will be solid middle of the road knives.

Why don't a show you the perfect knife on amazon

, well, all the knifes in the price range that I have personally handled are out of stock, and finding one that fit every criteria was taking along

time..

Suggestions from a face book group, asking for knives that fit the criteria above.

(FYI I don't get any money from the links)

I have not owned these knives and can't say, but the guys on the budget EDC group like them.

Make sure these Locking blades are allowed by you local laws and pack before getting anything... YMMV, at your own risk, on your own recognizance, No warranted implied or given, yadda yadda...

Dozier orange Dozier green Case Bsa Lockblade Ontario Rat 2 (black) (

Ambidextrous thumbstud, and 4 position pocket clip

) Ontario Rat 1(black) (

Ambidextrous thumbstud,

and 4 position pocket clip

) Newer Ontario Rat 1i (Black)(

Ambidextrous thumbstud,

and 4 position pocket clip)

Kershaw Injection(black) Buck Bantam (orange camo) Gerber Bear Grylls Scout (

Dual

thumbstud) If you prefer a more classic look,

Rough Rider Linerlock Trapper(44a stainless, so it will need to be sharpened more often, but only $10 at time of posting)

If for some reason you can't use a locking blade, here is one option

Marbles Gi Utility Knife